Our Vision for Amplifying Youth Voices in North Carolina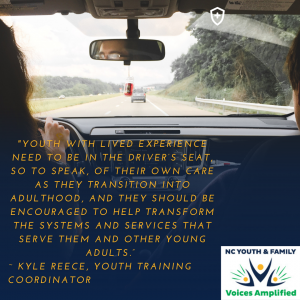 By Kyle Reece, Youth Training Coordinator
Young people have the right to be heard is a statement that has never been more profound than right now. As the world is coming out of a global pandemic, mental health is a topic of discussion more than ever. Although advocacy is the proven catalyst to change, the youth empowerment movement still has a long way to go. While self-advocacy opportunities for youth are on the rise, there is still the inspiration to raise mental health awareness, promote positive youth development, and train youth in independent living and self-advocacy.
UNC-Greensboro's Center for Youth, Family, and Community Partnerships' new program, NC Youth and Family Voices Amplified, has the perfect opportunity to provide youth with training and skills that will allow them to utilize their own lived experience to affect positive change in their own lives and their communities. We will also provide Youth Support Partners the support needed to work with youth hands-on and offer the technical assistance necessary to ensure youth are fully supported and given opportunities for advocacy.
We know the importance of mental health awareness and youth advocacy. Still, we must also provide opportunities for youth to get involved and provide their own lived experience in these efforts. The efforts will be achieved in various ways. First, it's vital to ensure youth are considered equal partners in all aspects of our work. This starts with empowering youth through self-advocacy training, compelling storytelling, youth advisory councils, and speaking opportunities. We show them respect by encouraging young people to speak up for themselves and their peers. Listening and creating opportunities for their voices to affect meaningful change in the communities, systems, and services they are involved in results in positive changes and ensures positive growth in the youth we serve.
 As important as it is to equip youth with the skills necessary to succeed, it is equally imperative to train and support those who work with youth. We ensure that young people have the support required to grow as they navigate mental and behavioral health services and systems by providing technical assistance and guidance to Youth Support Partners. In a time when youth need the most support, it is essential to ensure that their Support Partners have the tools and skills necessary to empower and support them as they navigate these systems and encourage them to advocate for themselves and others. We are maximizing the potential for positive growth for the youth we serve. 
 NC Youth and Family Voices Amplified strives to ensure that youth are supported through peer support, advocacy training, and opportunities for their voices to be discovered. By focusing on the training, technical assistance, and community partnerships necessary to provide youth with opportunities to be treated as equal partners and utilize their lived experiences in meaningful ways, we will affect positive change in their own lives. We know that we will successfully empower young people to meet their full potential. In this unique time, when change, advocacy, and mental health awareness are imperative, we must never forget that young people have the right to be heard!
Hear more from Kyle below: