What can you expect from NC Youth & Family Voices Amplified?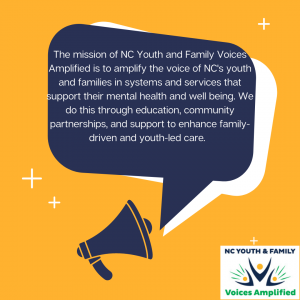 NC Youth and Family Voices Amplified is a new program within the UNC Greensboro Center for Youth, Family, and Community Partnerships. The mission of Voices Amplified is to amplify the voice of NC's youth and families in systems and services that support their mental health and well being. We do this through education, community partnerships, and support to enhance family-driven and youth-led care. 
All of this Program's staff members will bring their own personal lived experiences and extensive experience in the arena of Youth and Family Peer Support to provide leadership in North Carolina's movement to empower youth and family voice in promoting mental health across the State. 
Voices Amplified builds on decades of work across North Carolina to infuse the System of Care framework and youth and family voice into child- and family-serving systems. However, as a new program within UNCG, much of our work is still in the very early planning stages! 
However, to give you a sneak peak of what lies ahead for Voices Amplified, here are just a few of the key activities our team will be working on in the days, weeks, months, and years ahead:
Training and certification for Family Partners and Youth Peer Support Providers across North Carolina

Technical assistance to Youth and Family Peer Support Providers, as well as the agencies that employ them

Collaboration activities to advance the System of Care framework across child- and family-serving systems in North Carolina

In-person and on-line outreach to youth and families to promote mental health and access to services and support

Recruitment of prospective new Family Partners and Youth Peer Support Providers

Advocacy for youth and families to be at the table when decisions are made about systems and services that impact their lives. 
We look forward to partnering with individuals, families, and organizations at the local, regional, and statewide levels to carry out this work! We invite you to stay connected with us through our website and social media channels, where more details will be coming soon as we are ready to launch the program's specific activities. 
Connect with us on social media!
Learn more from Kara Lynch below: