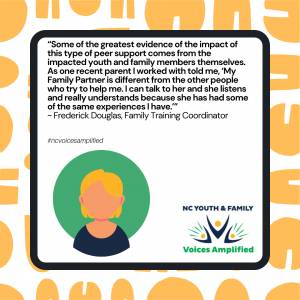 By Frederick Douglas, Family Training Coordinator
Hi, I am Frederick Douglas, a Family Partner and a Nationally Certified Family Peer Specialist. I have been providing support to families for over 25 years. I currently serve as the Family Training Coordinator with North Carolina Youth and Family Voices Amplified, the new training and education program at the University of North Carolina at Greensboro.
My new position supports three critical areas in implementing the Family Partner Role. The first area that my position supports is authenticity, which validates the perspective of youth and families who face behavioral and mental health challenges. It is essential to provide training and technical assistance to parents and caregivers interested in serving as Family Partners. It is equally crucial that the right applicant possesses skills in navigating the service delivery system. It is also vital for Family Partners to have the ability to articulate the lessons learned from their own lived experience. The ability to express their own lived experience creates space for supporting and sharing their lived experience with other parents and caregivers of children, youth, or emerging adults experiencing behavioral and mental health challenges.
The second area of my position is to identify training needs to support the effective implementation of the family partner role and to provide technical assistance to family partners in completing the certification process. Additionally, it is essential to establish the position by educating providers and community partners in understanding the value and significance of including family voice in decision-making around service delivery.
Lastly, my position is also to share best practices, which involves educating family partners, providers and the local communities in the System of Care core values and principles. One of our many goals is to create opportunities for families, agencies, and community partners to build family-driven, collaborative, relationships, and partnerships, across the state of North Carolina.
NC Voices Amplified looks forward to partnering with children, youth, families, and community partners at the local, regional, and state levels to carry out this work! We invite you to stay connected with us through our website and other social media outlets. 
Hear more from Fred below: